Matchday
WHERE TO JOIN FELLOW REDS ON MATCHDAY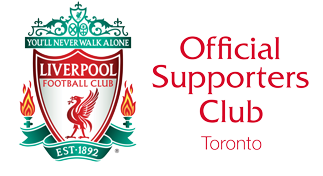 FAN EXPERIENCE
Be it live or digitally, there are so many ways to share your love of all things Liverpool FC here in the Greater Toronto Area.
The Official Liverpool Supporters Club (OLSC) of Toronto promotes friendship, engagement, and celebration across different channels.
Each is available to members and non-members; however, there are always special perks and access available to members. Why not join today?
ELEPHANT & CASTLE
212 King Street West, Toronto, ON
The perfect place for those mid-week "business meetings" which happen to correspond with LFC matches.
Visit website or call for details.
SLYE FOX
4057 New Street, Burlington, ON
Traditional English pub for members in Hamilton, Stoney Creek, Oakville, Milton, and surrounding areas.
Visit website or call for details.
MATCHDAY GALLERY
"Some clubs have fans, we have family." – Jurgen Klopp