Liverpool 8 – LFC Toronto Member Daniel Calina
Liverpool 8 - LFC Toronto Member Daniel Calina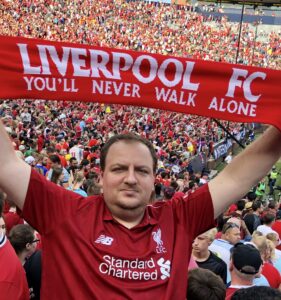 Each month Dan Hughes asks a member of the Official Liverpool Supporters Club of Toronto eight questions designed to explore the role that football and Liverpool FC have played in their life.  This month we've selected Danny Calina. 
What is your earliest memory of football?
The first competition that I remember watching with my full attention, body and soul focused on one football team was the 1994 World Cup. Romania, my ancestral team, went within just a few seconds of reaching the semi-finals. I remember waking up with my dad at three or four a.m. so we could watch the matches.
You could support any club in the world - why did you choose Liverpool?
My first contact with Liverpool FC was back in September 2000 when they came to my city to play against Rapid Bucharest in the first round of the UEFA Cup. That was the first time I cheered for the Reds and they won the match with a goal from Nick Barmby. But the real reason for my allegiance to the Reds was because I was a die-hard Steaua Bucharest fan and I was cheering for any team playing against Rapid Bucharest or Dinamo Bucharest. 😊
I really fell in love with Liverpool FC in November 2003, when they came back to Bucharest, this time to play against my team Steaua. On the day of the game I went downtown to look for some Liverpool fans so I could exchange scarves, as I was collecting them. It was then I met a few guys that opened my eyes to the Liverpool spirit. They explained to me that the mentality of The Kop is not only about winning the match - it's about always playing with heart and giving everything on the field. The final score was 1-1 with Djimi Traoré scoring the Reds' goal. But I won few friends that day, as well as the feelings that would keep growing in my heart for a team that would slowly change my perspective about football. If you can't support the team when it's losing, then you shouldn't be there for the joy of winning.
Who is your favourite current player and why?
'There's something that The Kop wants you to know …'
 Bobby Firmino is my favourite current Red - a player with great skills and an amazing mentality. He never puts himself first, ahead of the team's objectives. He remains the same humble person no matter what. You can see how much he loves the team and how upset he is when the team is not performing at the level to which they are capable. I've been watching him since he was playing for Hoffenheim in Germany and I was so happy when he signed for the Reds.
Who are your all-time Liverpool XI?
Pepe Reina
Jamie Carragher, Virgil van Dijk, Alan Hansen, John Arne Riise
Steven Gerrard, John Barnes, Steve McManaman
Kenny Dalglish, Ian Rush, Robbie Fowler
Who is the greatest-ever Liverpool manager and why?
Bill Shankly for everything he did for this club – not only for the trophies he won. In my opinion, he is the one that developed the Liverpool philosophy that guides the club to this day – even after almost 50 years.
What is your second-favourite team and why?
I grew up in the stadium of Steaua Bucharest and followed them all over Romania and Europe. I was an active member of the Ultras and have supported them for more than 20 years .
What is the season that means the most to you - not because the team was great, but because it connects to a meaningful moment in your life?
This one is a hard one, but I would say the 2013-14 season because the away Merseyside derby in November that season was the last football match I got to watch with my dad. He passed away a couple of weeks after that at only 50 years old. It was a rollercoaster match – as was the rest of the season with the Reds finishing second, two points behind City.
You can take just one Liverpool match on DVD with you to a desert island - what is the match and why?
This one is really easy. It's the Istanbul Champions League final from 2005, which I still consider the best game ever. Stevie raising the trophy after we were down three goals at half time against a very strong Milan team - that shows everyone that a football match is comprised of 90 minutes, not just 45. And that you can win a trophy with your heart and not just with your wallet.
YNWA
Dan Hughes
SHARE THIS STORY ANYWHERE YOU LIKE
SHARE THIS STORY ANYWHERE