About OLSC Toronto
OFFICIAL LIVERPOOL SUPPORTERS CLUB OF TORONTO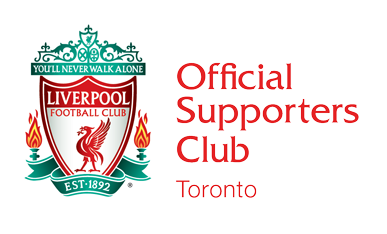 WHO ARE WE?
Our Mission
To unite and serve the supporters of Liverpool Football Club in the Greater Toronto Area and contribute to the larger LFC family worldwide. We do this by fostering a community of Liverpool FC fans in an inclusive, respectful and community-oriented culture. Our aim is to cultivate the unbreakable bond between Club and Supporter and to help create lasting memories.
Our History
While there has been a large Liverpool FC fanbase in Toronto for many years, the official Toronto branch was only formed in 2001. We have watched our mighty reds at several locations over the past two decades, the longest standing being Scallywags (2004-2019). Sadly, Scallywags has closed permanently, but with our growing supporters we have bridged partnerships with a few venues around the city. All Liverpool FC fans, whether a member or not are welcome to join us, cheer on the Mighty Reds, enjoy a great brunch, and a pint or two. We have brought over many former players over the years, including Bruce Grobbelaar, Ron Yeats, "Super Sub" Dave Fairclough, Ian St. John, Phil Neal and John Barnes. We look forward to meeting you and showing you the best atmosphere this side of the Mersey!
Volunteer Run
We welcome new members and interest in volunteering for one of our committees. Watch our News & Events page or social media channels for opportunities and the date of our next Annual General Meeting. Visit the Volunteer Page to learn more about how you can become more involved in your club!
Executive 2022/23
President: Jake Lota
Vice President: Sam Fiorella
Treasurer: Dan Fernandez
Secretary: Yvi Laramee
Director, Member Experience: Reagan Zuzarte
Director, Marketing: Aizaz Sheikh (Appointed)