Charity Day at LFC Toronto
Big Winners at LFC Toronto This Week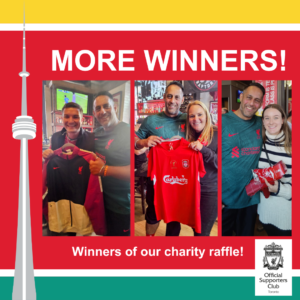 The first in a number of charity raffles was held this weekend during the Liverpool 1 – Manchester City 0 win. Thanks to all who partipcated!
This year, LFC Toronto has selected Street Health as the recipient of our local charity support efforts. Founded in 1986, Street Health is a frontline service to help Toronto's homeless. It provides nursing care, mental health counselling, identification (ID) services, and harm reduction and overdose prevention for drug users.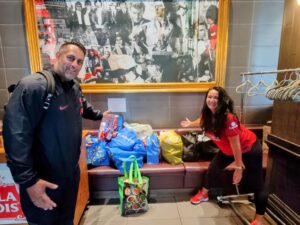 LFC Toronto participated in LFC Charity Day across North America as well, which saw many of the Official Supporters Clubs make the effort to give back to our local communities. In addition to the raffle held (see above) to support our season's charity, we hosted Food Drive to support our local food banks.
We're grateful for all the fans who came out to the Elephant & Castle and The Slye Fox, our two official pubs, and donated non-perishable goods. We'll be making the donation to the local food banks shortly and send a follow-up post then.
THIS WEEK'S MEMBER GALLERY
AND THE WINNER IS…
LFC Toronto held two raffles this week: Our typical member half-time draw (which we do during each Premier League Match) and our Member Drive Giveaway!
Check out the videos below for this week's member winners!
JOIN YOUR FELLOW REDS!
SHARE THIS STORY ANYWHERE YOU LIKE
SHARE THIS STORY ANYWHERE